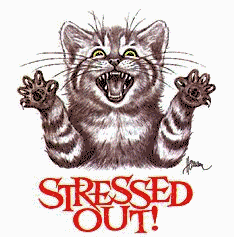 When most people think of working from home they dream of how wonderful it would be to do just that. However, working from home isn't always easy. Like ANYTHING in life, working from home has its ups and its downs. There are some things to think about before trying to take the leap right into working from home. I'm going to go over the good and the bad here and be brutally honest about everything that comes along with working from home.
The pros:
The ability to be home with your kids instead of sending them off to daycare or a sitter all day. The ability to be able to work in your PJ's. You use no gas to get to your computer! No need to worry about car repairs or transportation. The ability to take a vacation when YOU want to or being able to go to a doctors appointment without hassle. Not having to deal with annoying co-workers whom you may not get along with. You don't have to deal with annoying bosses breathing down your back.
These all sound wonderful and perfect don't they?
The cons:
You usually have to do your own taxes. You don't work 9-5 Monday through Friday and be finished with work as soon as the clock strikes 5:00. You are essentially working ALL of the time; day time, night time, weekends. You can take vacations when you want but you wont get paid for it, therefore when you get back from vacation you have to figure out some sort of way to make up for all of the missed time and money you have lost out on! No paid vacations, no insurance, no 401k, no paid sick days. If you experience computer or internet problems, it is YOUR responsibility to get it taken care of. You wont get paid to sit there and do paperwork as you would in a normal office if equipment is down. Imagine trying to get your work done while taking care of your children! Stopping to make meals, or to break up arguments (if you have more than one child you know this can be an all day occurance!), put your child in time out or to fix a booboo. Can be a bit difficult to concentrate on your work when you have screaming children in the background! You also have to try to keep your children occupied while you work so they don't drive you crazy!
If you are like me, you may miss having adult conversations! Being at home with children all day every single day can really drive a person insane! I honestly miss the fun conversations with co-workers and the friendships you make with people you work with at a "normal" out of the home job. Not to mention the fun things like work holiday parties or Christmas bonuses!
Another problem that I have seen a lot of work at home people deal with is judgment from others. A lot of people think that if you work at home you have it easy because you don't work a "normal" job. They think that because you work at home you don't really work. Some of these people think that you can just drop whatever you are doing whenever you want and help them out or do things for them just because you work at home. They think that you should not be tired or stressed out because you work from home. They don't understand that sometimes working from home can be more stressful than working in an office!
Let's not forget you also have the friends who think that because you can work from home that they can, too and they will constantly bug you to "get them in" so that they can quit their job and have the "easy life". Ha!
There really are a lot of things to consider before quitting your day job and working from home. It's not as easy and fun as most people think it is. You need to think about what you can and can not deal with before making that big dive. Sometimes things aren't as wonderful as they may sound at first! I'm really not trying to bring negativity to those considering working from home. Working from home has really helped my family out a lot considering that we could never have afforded daycare for our three children, however now that my kids are getting older I'm thinking of the things that I miss working for an out of home office. I actually feel as if I work more than I would if I worked some where outside of the home. I also miss the socialization that comes along with working outside of the home. I guess we all have to weigh the pros and cons and find out what will work best for us!
Good luck!